Course Details:
Facilitating Social Communication in Persons with ASD and Others thru Improv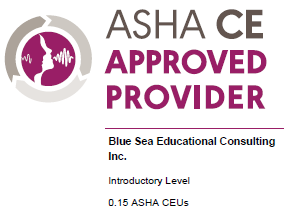 Date/Time
05/13/2023
11:00am-12:30pm
Instructional Level
Introductory
ASHA CE Provider approval and use of the Brand Block does not imply endorsement of course content specific products or clinical procedures.
Location
LIU Post
720 Northern BLVD.
Greenvale, N.Y. 11548
Life Sciences Building
Provider
Blue Sea Educational Consulting Inc.
Description
This course will introduce and describe improvisation and other creative techniques, as alternative means of facilitating socialization and communication skills in persons with autism and other developmental disabilities. The course will provide a rationale for use of these alternative techniques to train social/pragmatic communication skills through errorless learning and "Yes And" applications. Participants will engage in a variety of interactive exercises and acquire useful strategies they may apply creatively with their students with social and communicative deficits.
Provider Website
Academy.BlueSeaEducation.com
In Order to Receive a Certificate of Completion Learners Must:
Register for this course by May 6th, 2023
Attend the entirety of the event including the full Q&A session and sign in on the designated attendance sheet
Complete a program evaluation before you leave the premises
No partial credit will be awarded
You can determine your eligibility to receive ASHA CEUs for this course by visiting Eligibility to Earn ASHA CEUs

Accommodations: If you need to make a request for specific accommodations, please indicate your needs on the web registration form prior to 7 days of this course offering.
Learning Objectives
By the end of this course, participants will be able to:
Describe a rationale for the use of different performance arts to develop social/pragmatic communication skills
Describe and demonstrate an ability in using different improvisational games
Acquire strategies to aid persons with ASD and other communication disorders in acquiring social/pragmatic communication skills through use of performance arts
Target Audience
This course is best intended for Speech-Language Pathologists, Educators, and professional members of the school-based support team.
COURSE TIMELINE
5 MIN: INTRODUCTION
20 MIN: DESCRIPTION OF PERFORMANCE ARTS AND IMPROVISATION
20 MIN: USE OF PERFORMANCE ARTS WITH PERSONS ON THE SPECTRUM AND OTHER DISABILITIES
35 MIN: DEMONSTRATION OF IMPROV AND OTHER ACTIVITIES
10 MIN: LEARNER ASSESSMENT: Q & A SESSION
Complaint Policy
If you have a complaint, please email pd@blueseaeducation.com  within 30 days of the course offering date. Please find our entire complaint policy here.
Cancellation & Refund Policy
This course is being offered free of charge; a refund policy does not apply.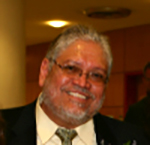 Dr. Robert A. Domingo
Dr. Robert Domingo, a past president of the Long Island Speech-Language Hearing Association (LISHA) and past member of the Board of Directors for the New York State Speech-Language Hearing Association (NYSSLHA) as Universities and Labs representative, is a certified and licensed Speech-Language Pathologist. He teaches courses at both the undergraduate and graduate University levels. His clinical background includes expertise in adult language habilitation and rehabilitation, motor speech disorders, neuroanatomy, autism, and developmental disabilities, swallowing disorders, and alternative and augmentative communication; as well as pediatric language acquisition, phonology and articulation, and school-based language intervention. His current interest lies in the facilitation and development of social communication skills in individuals with ASD or other communication deficits, through the use of improvisation.
Disclosure Statement for Dr. Robert Domingo
Financial Dr. Robert Domingo received financial compensation for creating this course content from Blue Sea Educational Consulting, Inc.
Nonfinancial Dr. Robert Domingo has no relevant nonfinancial relationships to disclose.